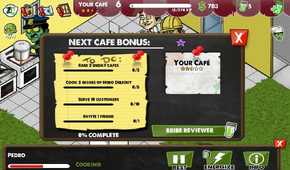 "When customers leave happy, you get money. With each happy customer your café's star rating increases and it gets more popular." –Zombie union rep
The café rating shows the reputation of the player's café. By making customers happy, the star rating will increase and more customers will show up, giving the chef more cash. If customers aren't satisfied or are attacked, the café rating will go down, dropping the amount of customers and cash. The type of customers that show up in the café also depend of how high the café rating is. Green blinking stars indicate that a café rating had just gone up during a player's absense and red blinking stars indicate that the café rating is now lower than it used to be.
"Rarrgh! We need to stay ahead of the hoard! Tap this icon to check for ways to improve your restaurant. Complete four tasks, and you'll earn a restaurant review, and a bonus star. Bonus stars last a long time...much like the undead!" - Aitsu

This feature from Zombie Cafe becomes available when the player's café reaches level 6. By completing four tasks in the "to do" list, the chef's café rating will gain a purple bonus star. Up to three bonus stars can be obtained, and they will only drop with the pass of time. The four tasks are selected randomly from the following:
Raid # enemy cafes
Serve # customers
Cook # dishes of ___ (a recipe available in the player's cookbook)
Invite # friends
Spend $# on your cafe
If the player has friends playing Zombie Cafe, the following may also appear:
Raid # friend cafes
Raid any # cafes
Collect fees from # friends cafes
Give # gifts to friends
Order # dishes from friends
After completing the four objectives, the player will gain one bonus star and a review will be shown:
"Best Brains in Town" -Gangrene Gourmand
"#1 Most Putrid" -Batty Cooker
"Rotten, Rancid and Revolting" -Ghoulia Chilled
The player can also bribe the reviewer to complete the tasks by using 2 Toxin for each incomplete objective. The purple stars last for a long time, which can be increase up to a certain limit.